Carol's Speaker Media Kit
For any questions that are not answered on this page, please do get in touch carol@unscatterme.com.
---
BIO (in my own words)
Working hard toward a goal is something I have done my whole life. It got me great grades in school, it got me success in my first career, and it helped me hit nearly any milestone I have selected. I've traveled abroad, run half marathons, fought wildfires, and overcome an abusive marriage. I created a business out of nothing tangible, in a recession. Only recently (in the last 5 or 10 years) have I developed the ability to mix intuition and whimsey into this drive.
I love my Productivity Cake template, as it manifests the best parts of my talents. I know how to be really productive, to take great care of myself, and how to be organized. And more than that, I know how to listen – to myself, my family, my friends, & my clients.
Listening to the Voice Within is, hands down, the secret to life. I believe the Voice Within is God. I believe that we all have the power to manifest our greatness. And that life can be a simple as baking a cake. And like a good recipe, it can change over time. We can add certain ingredients and subtract others.
I believe that the core ingredients must always be included. I expect that the Productivity Cake formula will be tweaked over time, and the core layers will always remain. I believe that building our own personal cake is not a "one and done" but that over time new ones will be developed and worked out. Success is a continuous process.
I believe we are all put on this earth to live our purpose. My purpose is to unearth the gifts, talents, and purpose of others. In this way, I am the Beacon of Light in the darkness and the thrower of stones in the lake that each create their own ripple effect. I enable my clients to achieve results in their business and life that they never thought possible. In fact, the coach team that I am blessed to work with has named me "Courageous Carol."
I am very, very happy. Inside and out. I wish the same for all of humanity.

Carol Williams,

AKA Green Goddess of Productivity

Beacon of Light Center, North Sutton, New Hampshire
---
HEADSHOT
| | |
| --- | --- |
| | |
| Headshot | |
---
SIZZLE REEL
---
SPEAKER ONE SHEET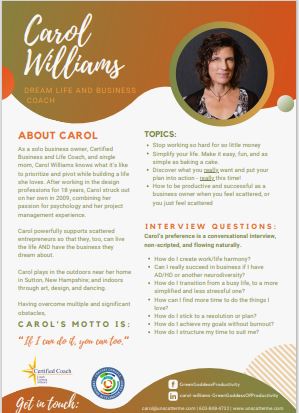 ---
GET IN TOUCH

GreenGoddessProductivity

carol-williams-GreenGoddessOfProductivity
603-848-4732
carol@unscatterme.com | www.unscatterme.com

---